City of Heavenly Fire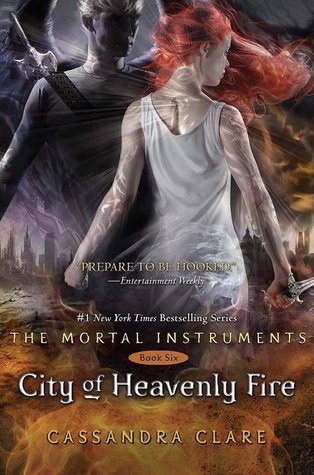 Cassandra Clare
Kindle Version
★★★★★!!!!!
Summary: 
In this dazzling and long-awaited conclusion to the acclaimed Mortal Instruments series, Clary and her friends fight the greatest evil they have ever faced: Clary's own brother. Sebastian Morgenstern is on the move, systematically turning Shadowhunter against Shadowhunter. Bearing the Infernal Cup, he transforms Shadowhunters into creatures out of nightmare, tearing apart families and lovers as the ranks of his Endarkened army swell. The embattled Shadowhunters withdraw to Idris – but not even the famed demon towers of Alicante can keep Sebastian at bay. And with the Nephilim trapped in Idris, who will guard the world against demons? When one of the greatest betrayals the Nephilim have ever known is revealed, Clary, Jace, Isabelle, Simon, and Alec must flee – even if their journey takes them deep into the demon realms, where no Shadowhunter has set foot before, and from which no human being has ever returned… Love will be sacrificed and lives lost in the terrible battle for the fate of the word in the thrilling final installment of the classic urban fantasy series The Mortal Instruments!
Review: I have been waiting on the edge of my seat for this book since I finished the fifth around Christmas time. I know I am a little late on reading it for someone who was waiting so long, but my list of books to read is never ending. So when I finally found time, yesterday, I read the  whole 725 pages in one sitting. Awkward. Sometimes it takes me two days to finish a 400 page book that I like but you know I love a book when I physically can't stop reading it.
This was the case with City of Heavenly Fire. Folks, Cassandra Clare has done it again. I just don't get it. How can someone write a fantasy story that seems so real. I was full of excitement and anxiety the entire book with  a side of happy and sad, depending on the part.
To be honest, I was a little nervous when I saw the number of pages, but even at 725 pages, the story went by too quickly. Personally, I am just never satisfied with the lengths of books, either it is too short or too long or, like in this case, it look too daunting but ended up being too short because I loved the plot so much. I am never pleased apparently. I really do not want to give too much of the plot away, but if you have read the other books in this series then you know the heartache that the characters have endured.
Literally, if this is me trying to convince you to start The Mortal Instruments series, my biggest hook is that this series has it all. It is has romance and fantasy and actions but honestly all about friendship. This band of friends, Clary, Jace, Isabelle, Simon, Alec and so many more work together to over throw the evil that is trying to do away with the world they know and love.
I don't want to be repetitive, because I have written about pretty much if not all of the books in this series, but it is truly unique. Sure, some elements have been done before, faeries, demons vampires and werewolves, but shadowhunters were new. Clare introduce a whole new species to the magical realm that upset the balance we readers are used to. It created an unknown world that was as interesting as it was amusing.
Something I wanted to touch upon before I go and leave you all to be curious and excited to read this series, is the characters. I have mentioned that there are a lot of main characters, Clary and Jace but then Isabelle, Simon and Alec. Not to mention their families and friends and others who help them through their adventure. It is unique to The Mortal Instruments Series that I became attached to all characters. Not just Clary and Jace or one of their close friends. Every person that Clare describes in some one I became attached to, probably because of the way they were beautifully written.
I have loved this series since day one and the thought of letting it go is bittersweet. Why is this series ending? Don't you just hate that, you get so invested into a series and then the author just rips it away from you? I was pretty mad at Cassandra Clare until I saw on Goodreads that she has a sister series that was released called the The Infernal Devices series. I can't wait to get my hands on these and be angry when another great series comes to a halt.